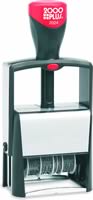 Okay maybe our title this week is a bit cliche, but when it comes to the calendar game, there's no denying the importance of having a good, reliable stamp to help you through your multiple tasks.
Consider, for example, if you work at a school in Winnipeg. A dater stamp is a handy tool for a teacher who likes to mark when a paper is received, or for a receptionist marking when a permission slip made their way to the office.
How about a bank-teller? Traditional stamps like "Approved" (which can be custom created in our online shop) are important for them as they sign off on a cheque or bankbook, but they will also use daters for similar functions.
Really, there are a thousand applications for dater and number stamps. It can be used for quick printing on payroll day or useful for that package you courier out, showing, without a doubt, when you sent out that all important document across country.
To learn more about the ways that a dater stamp can be an asset to your business, contact us or start shopping now!