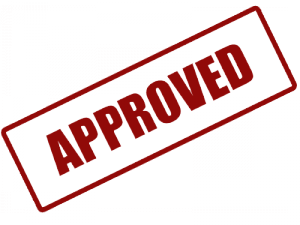 While we talked yesterday about the usefulness of a "Pending" stamp, we're moving on to the next stage today – "Approved".
Whether it's the same day a proposal comes in or a week, month or even year after, "Approved" may be the best kind of stamp that any one of your employees can hope to see. Their tireless work has finally been recognized and now they're seeing the fruits of their hours of work in making a pitch for your company. To them "Approved" splashed across their document is as good as gold.
But they're not the only ones who like to see that word. If you're in the financial industry, "Approved" is probably the stamp you want to use the most (and definitely anyone applying for a loan wants). If you're a philanthropist, an "Approved" stamp will come in handy when you receive your requests for major donations . Heck, a prospective father in law may want to have fun with the man who comes to you asking for your daughter's hand in marriage and put your "Approved" stamp right next to your "Pending" piece, just to mess with them a bit.
Unquestionably, there are several other uses for an "Approved" stamp, and we know you're ready to get started with yours. So head over to our online store and create your custom approved stamp today!