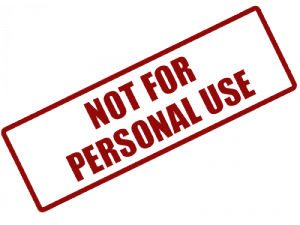 We continue our countdown of the Top 5 Reasons You Need a Stamp with our number four entry, which will surely serve as a reminder to your staff what they can and cannot use.
It's certainly a hot topic in Winnipeg these days – what can and can't you do in certain lines of work when you receive certain opportunities to see certain events in our city. Leave aside the professional jealousy for a second – at times it's just bad karma to take advantage of a gift received to an individual in the office that could easily be shared with others. Whether it's as simple as a gift basket around the holidays or larger like tickets to a hockey game (not that we're noting anything in particular mind you), there are certain gifts that really should be shared.
In this case, a stamped reminder that said token is Not For Personal Use will speak volumes and save you from potential harsh reactions down the line.
Fortunately for you, CanMark Industries in Winnipeg can make you a self-inking stamp that will deliver this message loud and clear. We're all about getting word across efficiently and effectively, and we firmly believe that there is no better communication tool than a custom-made rubber stamp.