Give Your Date the Stamp of Approval
Written by

CanMark Industries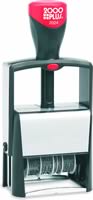 Okay maybe our title this week is a bit cliche, but when it comes to the calendar game, there's no denying the importance of having a good, reliable stamp to help you through your multiple tasks.
Consider, for example, if you work at a school in Winnipeg. A dater stamp is a handy tool for a teacher who likes to mark when a paper is received, or for a receptionist marking when a permission slip made their way to the office.
How about a bank-teller? Traditional stamps like "Approved" (which can be custom created in our online shop) are important for them as they sign off on a cheque or bankbook, but they will also use daters for similar functions.
Really, there are a thousand applications for dater and number stamps. It can be used for quick printing on payroll day or useful for that package you courier out, showing, without a doubt, when you sent out that all important document across country.
To learn more about the ways that a dater stamp can be an asset to your business, contact us or start shopping now!
Leave Your Mark on Your Golf Tourney
Written by

CanMark Industries
Last week we talked in general about how a signature stamp from CanMark Industries can be a huge timesaver. This week, we want to get a little more specific and talk about golf tournaments.
Anyone who has run a tournament in Winnipeg can attest to the number of letters that you write in and around the event can be numbing to your hand, which is the exact last thing that you want before you head out onto the links (well, unless you want a scapegoat for your score going into the triple digits).
Just as we suggested in our last entry, putting a stop to your cramping hand is an easy task – just take out your signature stamp from CanMark Industries.
The signature stamp is also a great piece to bring with you to the tournament itself. More and more events today are featuring on-site creations like team photos or thank you cards. Because of short turnaround, you don't necessarily have the time to sit and ink those documents with your John or Jane Hancock. So, to ensure that your signature on these valuable documents come out clear and crisp, bring your self-inking signature stamp with you to your event. You'll save a lot of time and have a better looking end product.
To learn more about our array of signature stamps, check out our online shop or call us today at 775-8953.
Sign Here… or Stamp Here?
Written by

CanMark Industries
For most of Winnipeg, payday is met with great anticipation; but for those who are signing the cheques, payday means one thing – another round with the wrist brace.
Same thing goes if you are a volunteer whose signature appears at the bottom of a donation letter or if you've just hosted a wedding and are filling out thank-you notes – that inevitable sting that hits your wrist midway through your work that gives your hand a jolt.
We'd like to offer up an alternative to this unnecessary pain – a signature stamp.
Signature stamps will perfectly replicate your John or Jane Hancock, flawlessly each time you use it. A traditional rubber stamp or self-inking model will do the trick for you and give you a look that doesn't look like it's been generated by the office printer (after all – you still want a measure of authenticity).
Of course, when you are using our Stamp Design Wizard to make your new signature stamp, we recommend that you make it the cleanest possible. This stamp will be useful for many years to come, so ensure that it is your best work.
To learn more about signature stamps available at CanMark, contact us today.
And the award goes to…
Written by

CanMark Industries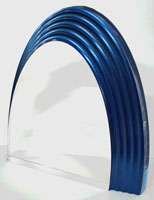 Over the last several weeks, CanMark Industries has been examining new opportunities to provide our loyal customers with the finest awards for your employee recognition event here in Winnipeg.
A particular series of awards caught our eye at a recent trade show – beautiful, clear acrylics that have colourful effects which accent well in a variety of positions and lighting.
It goes without saying that we couldn't wait to bring these back to Winnipeg, and we're now proud to announce that these acrylic awards are now available to the public.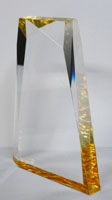 These awards created using crystal-clear acrylic, are hand polished and are available in a variety of shapes and sizes, from the classic Obelisk design to the attractive Spectrum award.
Each acrylic award is available with a variety of coloured accents, including red, gold, purple, blue and green, and can be etched with any logos or messages you request and/or a spectacular colour background.
To learn more about our new acrylic awards, call us today at 204 775 8953 or visit us at 135 Midland Street.
Coming soon…
Written by

CanMark Industries
Human curiosity gets the better of us each and every time, doesn't it?
As soon as we get a whisper of something new, we sit on the edge of our seats in anticipation, and we'll do anything we can to get the inside word on what the big news is going to be.
So we'll apologize in advance for taking advantage of your curiosity, but trust us, the news we're going to be bringing to you will be, shall we say, very rewarding.
We won't spoil anything just yet, but we'll give you this opportunity to get the early word.
Within the next couple weeks, CanMark will be unveiling a new product series, first to members of our Make Your Mark club and then to the rest of the web surfing population right here on our blog.
What's that? You aren't a member of CanMark's Make Your Mark club? Well, then it's time to join!
Click here to sign up for the Make Your Mark newsletter, which will provide you with news and special promotional offers.
Trust us, this is one you won't want to miss out on.
Our latest video – Employee recognition plaques
Written by

CanMark Industries
The following video is a dramatization, but it may be reflective of attitudes of under-appreciation in your office in Winnipeg.
If you are concerned that your employees are feeling unappreciated, CanMark Industries Ltd. can provide you with beautiful employee recognition plaques that will increase your employees' satisfaction with your company, and encourage them to stay with you (unlike our animated friend).
Got a tourney? We have your award
Written by

CanMark Industries
Winnipeg has been forever defined by having two seasons. Some refer to these as summer and winter, while others refer to them as ice and construction.
Now while these are true, we'd like to instead offer up an alternative definition of Winnipeg's two climates that aren't quite as gloomy – hockey and golf seasons.
There's probably no better example of this phenomenon than this year's outdoor experience. Sure, we're used to the outdoor frozen pond being unusable in March, but so many golf courses are already open that we've barely had a chance to store away our sticks and pull out the clubs.
While both sports have a commonality of being sports that involve a shaft-and-blade device, the bigger commonality between the two are the competitive streaks each has, despite being "leisure" activities.This spirit is especially seen in tournaments, which, despite their oft-times intention of being a fun competition, bring out the sports animal inside its combatants; and just like in the wild, there's nothing better to celebrate a victory with than an award that shows that, even for one fleeting moment, you are the best in the world (or at least among your buddies) at what you do.
So now that the spirit is inside you, come get your award. Call CanMark today at (204) 775-8953.
Don't forget about your volunteers in Winnipeg!
Written by

CanMark Industries
Vounteerism in Winnipeg is huge, to say the least. Year in and year out, Manitoba ranks at or near the top of national reports on the number of hours spent donating time to causes.
While a volunteer contributes this valued time without any expectation of anything in return, a tip of the cap is always appreciated and can help motivate that individual and those around him or her to continue their dedication to a non-profit organization.
In particular, it's important to show a long-time volunteer that their hard work has not gone unrecognized, especially as those individual hit landmark years. The standards tend to be 5s and 10s, especially once you go north of 20 years. These are definitely two times that you may want to start looking at your volunteer roster and see who has done exceptional work and have been dedicated.
So if you're organization is ready to show their appreciation to that special individual who donates their time selflessly, consider a plaque from CanMark Industries Ltd. at (204) 775-8953.
Recognize employees in Winnipeg with a plaque
Written by

CanMark Industries
Fans of the short-lived Dilbert cartoon series will fondly remember the episode focused on employee motivation tools.
In the episode, the pointy-haired boss gave his "valued" employees recognition pieces primarily found in the company's lost and found box. Characters like Wally gladly accepted these items, as it was the only time they truly got any form of "job well done" recognition from the higher ups.
While the concept of being happy for getting a glove or sock seems absurd (and it is), the truth behind the employee recognition episode is that recognizing your employees' hard work is integral for the success of a business. An employee who sees that their efforts are recognized is more likely to perform better and, just as importantly, want to stay with your company, and in today's climate, where employees can jump between organizations every couple years, anything you can do to retain your top workers is crucial.
If you're looking to recognize an employee for their hard work, call CanMark Industries Ltd. today and learn about some of the amazing plaques we have provided for businesses in Winnipeg and Manitoba. We can create beautifully-etched pieces for you and your company, custom-created to include your company's logo and the exact look you want.
To learn more, call us today at (204) 775-8953 today.
A plaque for all occasions
Written by

CanMark Industries
Chances are you know CanMark Industries for our rubber stamps in Winnipeg; but did you know that we also produce amazing plaques and awards?
It's true. We have been creating beautiful plaques for Winnipeg and Manitoba businesses and organizations for a number of years.
A plaque is the perfect way to recognize an individual for their outstanding accomplishments, be it in a competition or simply as a thank you for being a terrific employee.
The great thing about our plaques is that we can produce them in a number of formats, including etching and beautiful image reproduction. Your plaque will also be beautifully created on a wood mount back that will make it displayable in any home or office.
There are a number of great applications for a plaque bearing the name of someone who you value, and we'll talk about just a few of those applications over the next few weeks, so be sure to check in on a regular basis to CanMark Industries' blog.